I have wanted to write about Les Miserables since I walked out of the movie theater two weeks ago.  Several times I sat down and stared at a blank screen, struggling to find the right words to describe the experience but I could not. It left me undone.
I had known the story before going to the movie, my first exposure to Victor Hugo being in high school French class. (An aside: it really does help to have some understanding of French history and culture both from an American and European perspective as you ruminate on the messages Hugo delivers. Thank you, Mrs. Hopkins!) I had also read a couple reviews written by Christians, both positive and negative, but I was not prepared for the response that would come from my own heart as the story of grace and law unfolded on the big screen.
For whatever else it might be, Les Miserables is that, a story of two professing believers, one who chooses to live a life that reflects the grace that God showed to him and the other who denied that same grace, instead purposing to live by the very law that Scripture tells us could not save him. In many ways, the story of Jean Valjean and Javert is a picture of the struggle of faith that every Christian must face. Do we believe that God in His mercy saves and sustains us or do we believe that our own salvation and righteousness is measured by the works we perform? And, most importantly, how does our answer to this question determine how we relate to both God and man?
I am assuming that most who read these thoughts will be familiar with the main story line so I will not repeat it here. (If you are not, you might want to read a basic synopsis.) What I really want to write about is what I believe are the reasons many conservative Christians will take issue with Tom Hooper's adaptation of Les Miserables and why many others will, unfortunately, refuse to see it altogether:
Conservatives have been lead to believe that the sexual aspect of the film is so provocative that seeing it will defile them. After being so incredibly moved and convicted by this film, I was very disappointed to see Focus on the Family's Plugged In review that has created quite a bit of hype regarding the sexual nature of the film. Many reviewers have declared that their objection to the movie is the immodest dress and the behavior of the prostitutes as reported in this review. (Honestly, I am rarely comfortable reading a descriptive take on movies because I always feel more defiled by the reviews than I do by the films themselves.) Many are saying it would violate their standards to watch it or, in fact, any movie that might also contain what they consider to be immodest dress or explicit sexual behavior. (I am confused by their definition of "explicit" because some of the people most adamantly opposed to Les Miserables are also huge fans of Downton Abbey which has a couple "explicit" scenes of homosexual men kissing each other! Disclaimer: I am a Downton fan! ) Many of the negative reviews and comments I have read that were elicited by this film simply show a lack of critical thinking when it comes to discernment in the area of the arts, their "insights" sounding like "crazy talk" as one reader stated.
Further, many conservatives conclude that sexual sin begins with immodestly dressed women who tempt men to lust after them. To them, immoral women are always seen as the temptress rather than a possible victim of society's circumstances or a sinner in need of a Savior. They believe that Eve and her daughters, ie all women, are responsible for man's lust, though Scripture tells us "Each one is tempted when he is carried away and enticed by his own lust. Then when lust has conceived, it gives birth to sin; and when sin is accomplished, it brings forth death. Do not be deceived, my beloved brethren." (James 1:14-16) A Christian man ought to be deeply moved with compassion rather than "finding disgust" as one Christian confessed. Anne Hathaway's portrayal of Fantine, the young mother whose downward spiral into prostitution is played out every day in the lives of millions of real women who are caught up in sex trafficking, is appropriately raw and tormenting. One man I know stated it clearly and accurately: "Any man who was tempted to lust by this film has some serious issues and any Christian tempted by this film has some serious spiritual issues."
The historical backdrop of Les Miserables is one of class struggle, hierarchy, and the resulting abuse by those in power toward those who are not.   Patriocentrists and others whose church polity and family life cannot be imagined apart from hierarchy would be repulsed by Jean Valjean's picture of heaven as liberty and freedom for the masses. (I am thinking of the priesthood of the believer concept that is central to true reformation thought.) They would also be horrified at the idea of revolution. I am guessing this aspect of the film is even more troubling within some circles that espouse heavy-handed views of church authority and reject equality than the sexual theme. I often wonder how Pharisees see heaven. Do they see it as a place with lots of rules and regulations?
And this brings me to the key message of Les Miserables, the truth of what living by law and living by grace look like up close and personal. Jean Valjean is the archetype of grace, the sinner running from a God who pursues him rather than a modern day "seeker." He is the recipient of irresistible grace. Though Hugo was not a professing Christian, he understood what true repentance and salvation looks like; Hugo's perspective of theology is spot on. He understood that we sin because we are sinners at the very core of our being and that, no matter how dependent we are on God's grace, we are forever tempted to "explain", as Jean Valjean did, why we sinned. What true believer does not face this temptation daily? Hugh Jackman's performance as the wonderful Jean Vanjean was stellar, winning him a well-deserved Oscar nomination and bringing a quality to the character on film that has been missed on the stage.
But to consider Les Miserables' message of redemption alone does not do justice to the power of this movie. From my perspective, the most compelling character was Javert. Though many have considered Russell Crowe's performance to be weak, I disagree. In fact, I think his rendition was powerful. Javert reminds me too much of all Pharisees I have known; he reminded me too much of myself.  "Mine is the way of the Lord," he declared.  "Those who follow the path of the righteous shall have their reward….those who fall must pay the price. Let me find him that I may see him behind bars; I will never rest until then." As Tim Keller so aptly points out in his book, The Prodigal God, that examines the parable we know as "the prodigal son," we are all the "older brother" who cannot bear to see God's offer of grace in the life of someone else. Ultimately, many refuse to accept that grace for themselves and this explains why I believe the Pharisees among us will never be able to abide Les Miserables. The law can never stand face to face with grace and win.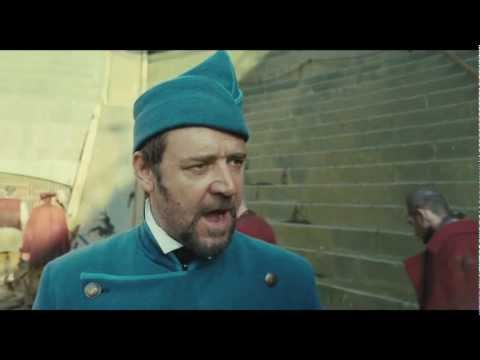 There were other aspects of Hooper's Les Miserables I appreciated. Artistic and multi-layered characters are rarely seen in the canned "Christian" films that are popular within the Christian culture but Hooper allowed his cast to show us their true selves. His choice to record their singing as they acted on camera, rather than recording and dubbing in later, and taking the lens deep into their personal space gave us a reality that speaks into our hearts. For that reason, more than any other, the PG-13 rating should apply.
Be prepared to be challenged, stretched, and convicted by Les Miserables. Leave your Pharisee friends at home.
For some good insights into Les Miserables check out Bob Bixby's thoughts as well as the Kuyperian commentary.